Speaking in the US
A few months back I was in procrastination mode and trawling Google to keep an eye out for any new Wantu competitors. I lucked on a conference about Children and Digital Media, the next day an industry body email mentioned the same conference – the internet was telling me something and the 2-day program sounded great!
There was a catch, it was in Texas USA! It's a big financial and time commitment to travel to the other side of the world so I emailed the organisers for some more information. That email initiated a very-early-morning Skype call, which I later found out was a speaker interview. The level of enthusiasm and professionalism shown by their Strategic Partnerships Manager Amy meant it was an easy decision to plan a big trip.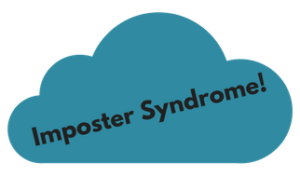 So, I went from researching about attending a conference to being invited to participate on an International Panel discussing global trends in Digital Kid's media. Self-doubt immediately set in, just as it had earlier this year when I was invited to be on a Panel on International Women's Day at alongside inspiring achievers like Anne-Marie Birkill, Managing Partner at OneVentures and Holly Cardew, Founder and CEO at Pixc.
My strange skyping hours continued with a mix of late night or early morning calls to best align with 5 countries represented. I also learned to not rely on what my calendar says when a well-intentioned admin intern in the UK sent a meeting invite referencing British Summer Time (BST) which differed from an earlier invite which noted Greenwich Mean Time (GMT). They are not the same, as I discovered dialling into a meeting when everyone else was leaving, not a great intro when I was wondering if I was up to the task?
I was welc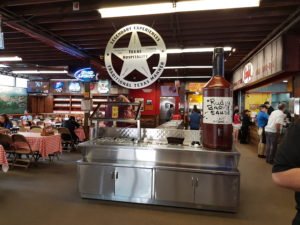 omed within hours of arriving in Austin as two other panel members and I were taken out for traditional Austin BBQ by the Summit's CEO Stacey Sherman and Mr "Edwin the Duck" Entrepreneur Matt MacBeth. Matt was fresh from being featured in the new Apple show Planet of the Apps and his stories of spending months in the reality show and being on set working with the highly accomplished businesswoman Jessica Alba set the scene for a fun two days ahead.
"Meeting" online before the event meant we felt we already knew each other by the time we met in person, and this was extended even further at a fancy VIP reception on the eve of the conference.
Note to self: saying yes to a Texan Tequila is not the most sensible choice the night before speaking, but I wasn't alone in that choice!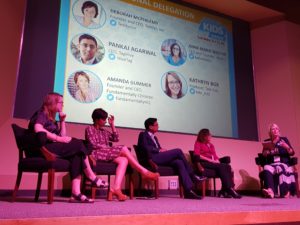 Our moderator, Dr Amanda Gummer, Managing Director of Fundamentally Children is an expert in Kids Digital Media. I've followed her for some time and Amanda's preparation in the leadup to the event was exemplary, as was her facilitation of the session itself. The other panel members Kat from Tate Kids, Deborah from Teddy's Inc and Pankaj from Samsung spin-off TagHive were well selected for their domain knowledge so the panel discussion provided a worthwhile agenda for the audience.
I've since realised that being a guest speaker added additional benefits to participating in the Summit. As we were just the second session of the 2-day program, I was known to the conference attendees from the get-go. Having my bio and company introduced at the beginning of the panel discussion and being able to provide my personal opinions on the state of our sector, meant I had other attendees approaching me at the first break making that imposter syndrome cloud float away.
I reaped multiple rewards through this trip; great networking opportunities and connections made, thoughtful speakers gift, new friendships formed and I am now much more well-informed on the state of my industry sector.
My advice to anyone looking to grow their business and expand their domain knowledge and connections is to "put yourself out there". Whether that's attending an event across the other side of the globe where you don't know anyone else as I did, or reaching out to someone you respect and want to meet in your industry, all you need to do is just ……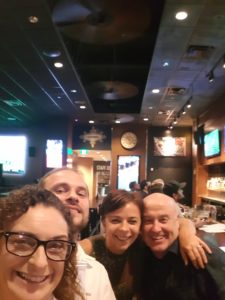 "Give it a go!"
---
Also published on Medium.